Do not know how to download Dailymotion videos online for free?
Looking for the best ways to download movies from tons of other websites?
We are living in a world where enjoying online videos is an indispensable part of the entertainment.
You may have the need to download videos like Punjabi movies, Hinds movies or Bollywood movies.
You may have many apps, like Dailymotion and YouTube, on your device.
It may bring you some trouble to manage those apps, like the storage problem.
At this moment, a dependable Dailymotion downloader is an awfully nice thing to have on hand.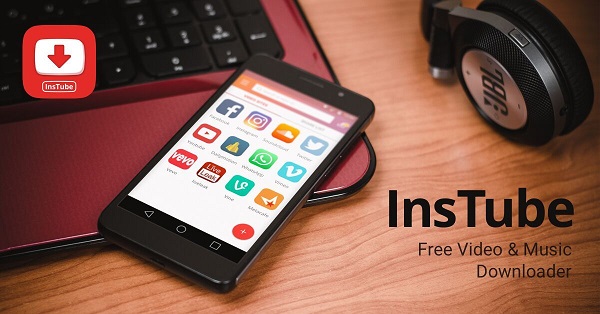 These days, you've got more options than ever.
However, there are two sides to every coin.
Do you know how to pick up the one you really need from them?
Download Dailymotion Videos Online for Free with the Best Downloader
InsTube is a video and music downloader including more than 100 sites.
You can find all of them on InsTube's homepage:
YouTube, Twitter, Facebook, Hotstar, Vevo, Song Liv, etc. .

It is quite unnecessary to install too many video apps on your Android device, because it looks ugly and occupies too much storage.
But you can find almost all the videos, movies, music you like on InsTube.
You can watch them online or download the files to your phone.
Plus, InsTube is not just a video downloader.
It features:
Download full HD videos
Download many videos at the same time with multiple network connections.
Lock your video for personal enjoyment after the download.
Earn credits and balances.
……
All in all, InsTube comes with powerful functions that promise significantly great user experience and best services.
The app is a great place to download videos and music.
Now, let's have a look at how to download free online videos using InsTube
Download Free Online Videos from Dailymotion
With InsTube, downloading free videos from Dailymotion becomes an easy task.
It only takes you several steps to do that.
Step 1: Install InsTube on Your Android Device
The first thing is installing InsTube, and the simplest way to do that is going to InsTube official websites.
You can find the downloadhelper in app store like Uptodown.
Or you can also tap the download button below to directly get the Dailymotion downloader:

You can refer to the instructions "How to install InsTube" if you have any problems.
Step 2: Open Dailymotion Stie within InsTube
Find Dailymotion on the homepage of InsTube and open Dailymotion website.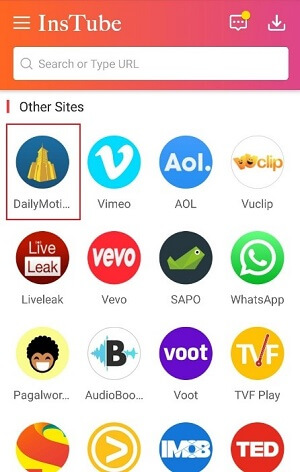 Step 3: Find the Video You Want to Download
Search for the video you want to download in the search box of Dailymotion.
And as the search results appear, tap on the one you want to download.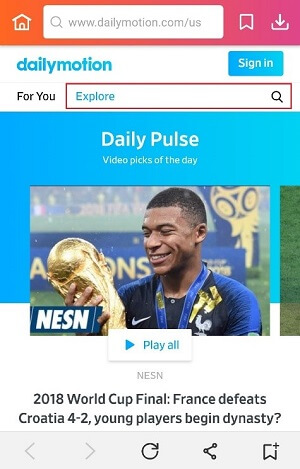 Step 4: Download Dailymotion Videos by Tapping on the Download Button
As the video starts to play, a red download button will appear on the bottom right corner.
Tap on the download button.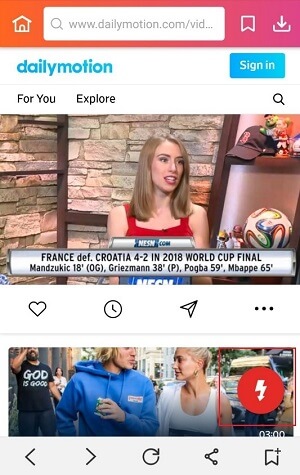 Step 5: Choose the Video format
Before the download starts, a popup shows reminding you to choose the format and resolution for your video.
Choose the one you like and then click on "Fast Download" to start to download Dailymotion videos.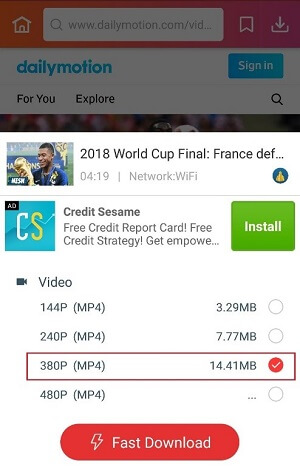 After that, you can check your download by tapping on the download button on the upper right corner of the screen.
Tap on the green play button and the video will start to play.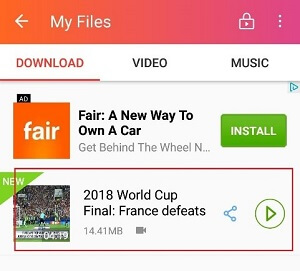 You can also copy the URL of the video you want to download and paste it into the search box of InsTube.
The red download button will appear as soon as the video stars to play.
Then you can tap on that button and download the Dailymotion video through the way mentioned above.
For more download methods, see Top 6 Ways to Download Videos from YouTube, Vevo, Vimeo, etc.
Now, get your InsTube and start to download free online videos from Dailymotion.
Read More:
If you have many problems, you can contact via support@instube.com.
Enjoy your videos and have a good day.