Music plays an important role in people's life that nothing can help express, reinforce or alleviate our emotions like it. Just like a charming poetry, a good song can be enjoyed repeatedly and we'll never get tired of it.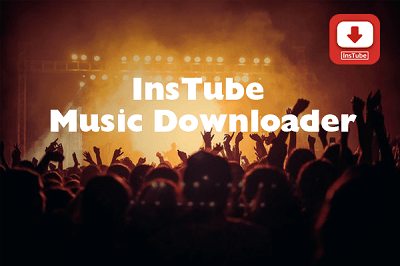 Many people are looking for a way to free download music to their Android since these days, some websites don't allow users to do that; some require a subscription. At this time, InsTube music downloader is absolutes the best choice to get music for free.
Features of InsTube Music Downloader APK
Free Music Downloader
InsTube music downloader is the best app for Android users to save music to their devices. They don't even need to sign up to get songs from 40+ awesome music sites for free.
YouTube Downloader
InsTube is the best YouTube downloader. Users can download YouTube music and video for free with it. Actually, InsTube music downloader also allows users to save songs from other 40+ sites, like Facebook, SoundCloud, and Vevo, etc.
MP3 Converter
InsTube music downloader is also a music converter. Users can convert their loving songs or singles to MP3 or other formats.
See also: Free YouTube to MP3 Converter for Android
HD Video Downloader
InsTube is the best music downloader that helps you download music videos easily at a high speed. It supports MP3, MP4, 3GP and M4A formats. Users can download HD, full HD or 4K videos with it. Tap here to know how to get 1080p or 720p music videos for Android.
How to Get Free Music via InsTube Music Downloader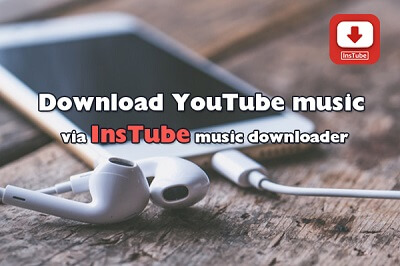 As a music downloader, InsTube supports 40+ sites, like YouTube, Facebook, SoundCloud, etc. Since YouTube is supposed to be the largest video site containing many music videos and InsTube has always been the best YouTube downloader on the market, here we'll take YouTube as an example to introduce 3 easy ways to get music via InsTube YouTube downloader. It should be noted that the ways are suitable for music and video download from all 40+ sites.
See also:
Download InsTube Music Downloader
Simply visit the official website of this music downloader: InsTube. One can find several ways to get this downloader: scan the code, tap the download button, or turn to app stores like Uptodown and Aptoide. Download and install InsTube music downloader:

InsTube Music Downloader: Download Music on YouTube App
This way is more appropriate for those who are accustomed to using YouTube app since they may want to get music on this app directly.
Step 1: Search Music on YouTube
Launch InsTube music downloader and then back to open YouTube app. Find your loving song with its name in YouTube inquiry box.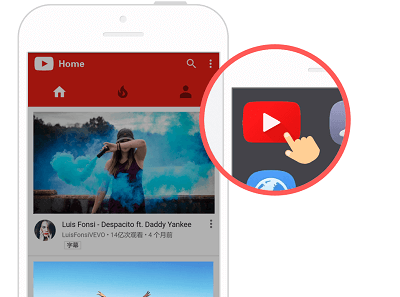 Step 2: Copy the Link
Tap on the share button below the music video and choose "copy link" on the pop-up page. Then a red download button will appear, tap on that button.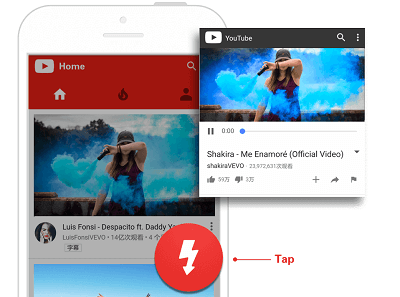 Step 3: Choose the Format to Start Download
Choose the format you need and then start the YouTube music download. If you need to convert YouTube music to MP3 format or want to download HD music video, select the relative format at this time.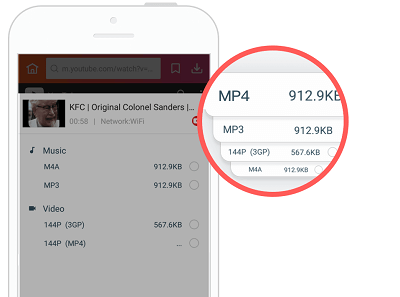 Step 4: Confirm the Download in InsTube Music Downloader
Now, the download is going on. You can continue to enjoy your music on YouTube, or you can check and play it in the DOWNLOAD file of InsTube music downloader. Simply tap on the download icon on the upper right corner to find it.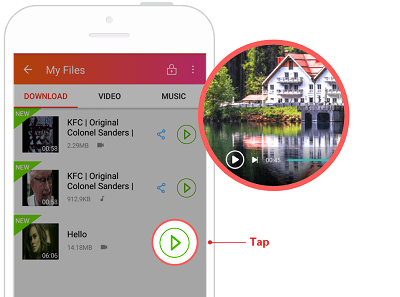 Method 2: Download YouTube Music on InsTube Music Downloader APK
Step 1: Open InsTube music downloader app and find the YouTube icon on the homepage to enter its website. Search for the music in YouTube inquiry box.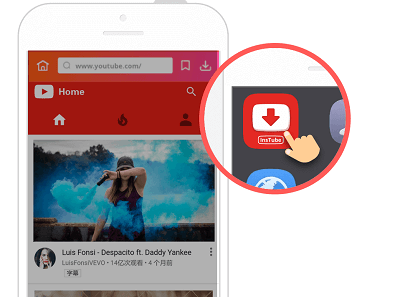 Step 2: Play the music and then tap on the download button that appears on the bottom right corner.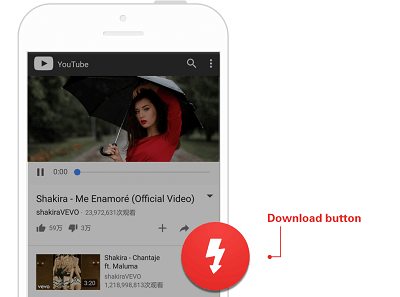 Step 3: Select the format you need in the dialog that shows from the bottom of the screen. Users can get YouTube MP3 music with this music downloader at this time.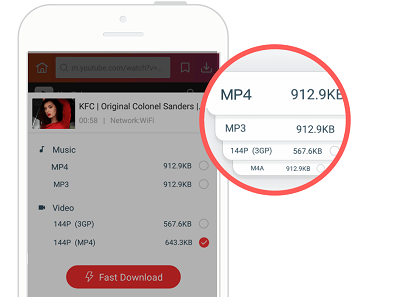 Step 4: Check the music in the DOWNLOAD file of InsTube music downloader. Simply tap on the download icon on the top of the screen.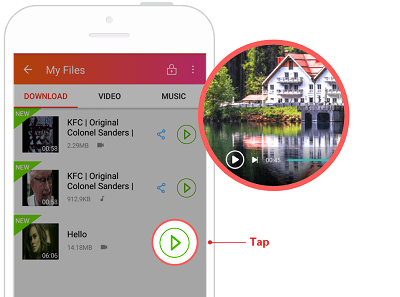 Method 3: Copy and Paste the URL
When you find an interesting song somewhere, you can simply copy its URL and then paste it into the inquiry box of InsTube music downloader to get the song for free. Follow us to see the detailed steps.
Step 1: Copy the URL of the song and then paste it into InsTube. As the search result shows, tap to play it.
Step 2: A red button will appear at this time. Tap on it and then select the format in the pop-up page. InsTube music downloader offers many choices, like MP3, 3GP, MP4, M4A, etc. After that, tap on "Fast Download" to start downloading the song.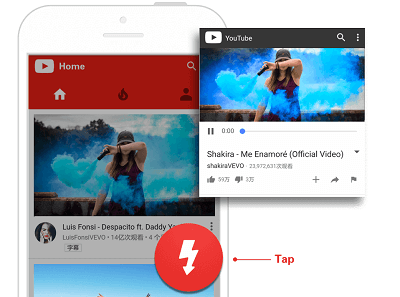 Step 3: Click on the menu icon to find and open the DOWNLOAD file where you can find your music and play it.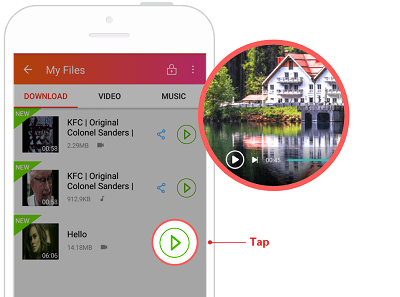 If you are looking for a way to save music from multiple sites like YouTube, or if you are looking for a YouTube to MP3 converter, then this YouTube music downloader is the top one. Get InsTube music downloader now to start enjoying your loving songs or tracks. Welcome to follow us on Facebook to find more great music. We are there to help you if you have any problems with the downloading process.
Read more: