Country music, which originated in the southern United States in the early 1920s, is a genre of popular music. As time goes by, country music attracts more and more people and has various styles and subgenres, such as Classic country, Country blues, Country pop, etc.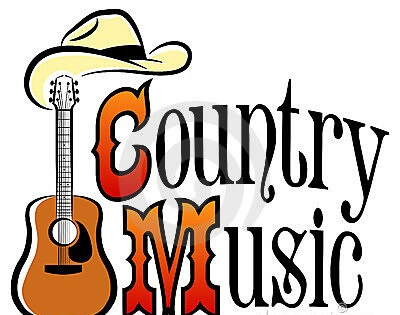 Country music often consists of ballads and dance tunes. It generally has simple forms, folk lyrics, and harmonies accompanied by string instruments like banjos, electric and acoustic guitars.
As a large video & music website, YouTube provides tons of country music and the list of the latest or top ones. Have you listened to top 10 YouTube country music? If don't, follow us to have a look.
Top 10 Country Music on YouTube
1. Heaven
"Heaven" is a song recorded by American country music singer Kane Brown. The song reached No. 1 on the Country Airplay chart dated May 19, 2018. If you like country music, it is absolutely the one you should listen to.
2. Mercy
Written by Brett Young and Sean McConnell, "Mercy" peaked at numbers two on the Billboard Hot Country Songs.
3. Tennessee Whiskey
The song is written by Dean Dillon and Linda Hargrove. It was originally recorded by American country music artist David Allan Coe for his album of the same name Tennessee Whiskey.
4. You Make It Easy
"You Make It Easy" is written by Florida Georgia Line members Tyler Hubbard and Brian Kelley and recorded by American country music singer Jason Alde. It is said that Hubbard wrote the song inspired by his wife, Hayley.
5. Beautiful Crazy
Luke Combs surprised his fans with "Beautiful Crazy". The song lands at NO. 1 on iTunes' All-Genre Songs Chart. It will be featured on his upcoming deluxe album, This One's for You Too.
6. What Ifs
"What Ifs" is a song recorded by American country music singer Kane Brown featuring Lauren Alaina. The song was released on February 6, 2017.
7. In Case You Didn't Know
Another great song by Brett Young. The song is a huge success that it peaked at number one on the Country Airplay chart for the week of June 10, 2017.
8. Simple
"Simple" is a song by American country music duo Florida Georgia Line. It expresses romantic love as a "simple" concept.
9. Tequila
"Tequila" is a song recorded by American country music duo Dan + Shay. "Tequila" has reached number one on the Billboard Country Airplay and number two on the Hot Country Songs charts.
10. Blue Ain't Your Color
"Blue Ain't Your Color" is written by Steven Lee Olsen, Hillary Lindsey, and Clint Lagerberg and recorded by country music singer Keith Urban. It is about a male observing a lonely woman at a bar who is dissatisfied with her current relationship.
The Best Places to Listen to YouTube Country Music
Firstly, if you just want to watch the music video and listen to the music, simply search "YouTube country music" on Google or go to YouTube website and search "top country music". Then, you can enjoy your loving songs.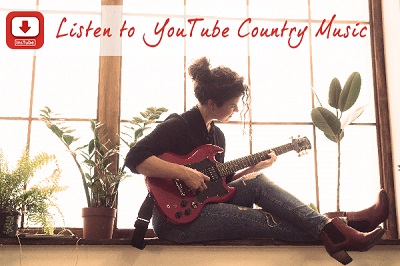 If you have the need to download the music video for offline use or if you'd like to convert the music video to mp3 format, you need to turn to other platforms to achieve that.
As we know, YouTube doesn't support video or music download or convert. At this time, InsTube, which is both a YouTube video converter and a YouTube music downloader, is the best choice. You can directly download InsTube via the button below:

On the one hand, InsTube can help users download YouTube country music for free. On the other hand, InsTube provides various formats, like M4A, 3GP, MP3, MP4, etc.
One can convert the music video to MP3 format in several ways. If needed, read the contents below to know how to do that.
How to Download YouTube Country Music via InsTube
Actually, there are 6 ways to download YouTube country music via InsTube, which are all quite easy. Here, we'll introduce the most used one. It only takes you 3 steps.
Step 1: Search YouTube Country Music on YouTube
Launch InsTube app and then enter YouTube app. Search for the YouTube country music with the title of the song. For example, enter "Mercy" into the search box on the top. A list of results will appear, tap on the one you need.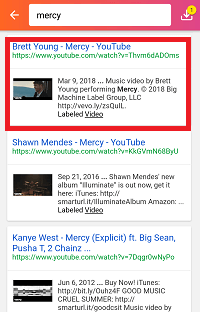 Step 2: Copy the Link to Start the Download
As the music video starts to play, tap on the "share" button below the music and choose copy link on the pop-up page. Then, an overlay dialog will appear from the button of the screen telling to choose the format.
If you want to download a music video, you are allowed to choose the HD format; if you want the mp3 format, just tap on the mp3 one to start the download.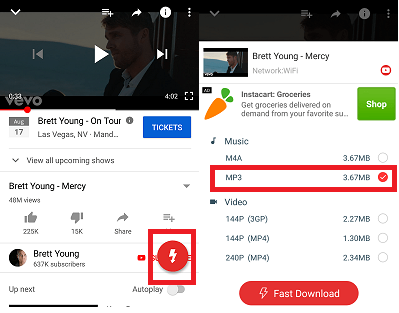 Step 3: Find "Mercy" in InsTube
you can continue to enjoy your music, or you can go to InsTube app to check your download. just tap on the download icon on the upper right corner to find the music "Mercy" in the DOWNLOAD file. Tap on the green play icon and then the music will start to play.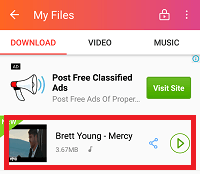 How to Convert YouTube Country Music to MP3 Format
There are two ways to convert the YouTube country music to mp3 format on InsTube. Which one are you supposed to take?
Well, it depends on whether you have saved the music to your device. Take method 1 if you haven't downloaded the music to your device; take method 2 if you already have.
Method 1: Convert in the downloading process
If you had used InsTube to download YouTube music before, you would remember InsTube provides various formats to download music. If not, in the contents above "How to Download YouTube Country Music via InsTube", we have also mentioned that in step two.
You can just choose the mp3 format to download your music, which, therefore, will be saved in that format.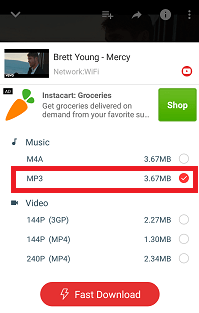 Method 2: Convert after the Download
What if you have already saved the music in other formats? Do you need to download it in mp3 format again? No, just tap on the download and then a page will pop up. Choose "play as music" and then the video will play in mp3 format.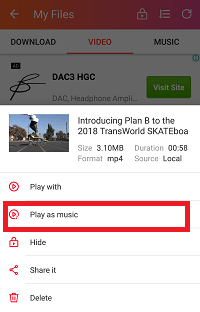 It should be noted that the method two is not as convenient as method one since you can only listen to the mp3 music but not save it to your device.
Now you can install InsTube to enjoy the top YouTube country music. Simply follow the installation instructions if it is needed.
Welcome to contact us on support@instube.com if you have any concerns.
Read more: