It is an enjoyment to listen to some music in the leisure time. Music helps to relax our body and refresh our mind when we are tired or anxious. If you are such a kind of person that you can't live without music, you should have a look at the contents below, for there will be 8 awesome music apps for you. A great music app is very important at this time.
Part 1. The Best App Where You Can Download Music Free
Apps like InsTube is necessary for those who like to download music to their device for offline listening. InsTube is a great video & music downloader. let's have a look at some features of this awesome app.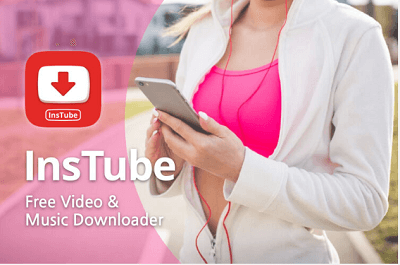 InsTube supports 40+ sites. Users can stream and download music video from YouTube, Vevo, SoundCloud, etc.
Download music in various formats or convert the music video to mp3 format on InsTube.
Download music with no sign-up.
Built-in video and music player
Fast and free. Clean interface.
How to Download Music to Android with InsTube Music Downloader
As we mentioned above, InsTube allows its users to download music from more than 40 sites. In fact, there are 6 easy ways to save video and music with this smart music downloader. Here, we'll introduce one of them.
Step 1: Find Your Target Music
Find your target music in the search box of InsTube by entering the title of the song. If you have no target, you can also open music websites like YouTube and SoundCloud and stream the contents freely. Once you find the music you want to download, just tap on it.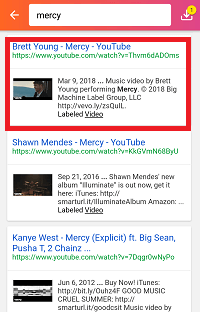 Step 2: Start to Download the Music via InsTube
As the music starts to play, tap on the red download button of InsTube on the bottom right corner and choose the format in the pop-up page. You can choose MP3, M4A, MP4, etc.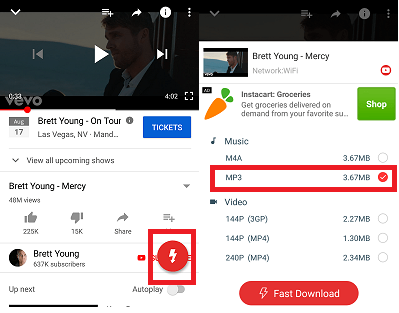 Step 3: Play the Music on InsTube
You can find the downloaded music in the DOWNLOAD file. Just tap on the download icon on the upper right corner to enter that file. Then, you can tap on the green play icon to play the music.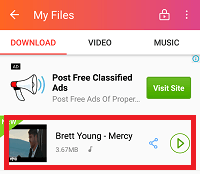 Convert Music Video to MP3 on InsTube
There are two ways to convert a music video to mp3 on InsTube. If you haven't downloaded the music, you can download it with the steps we mentioned above and then choose the mp3 format in step 2.
If you have already saved the music to your Android in other formats, don't worry. You can also convert it to mp3 easily. Just tap on the downloaded music in your file, and then choose "Play as music" in the pop-up page. Then, your music video will be converted to mp3 format.
See Also: Top 25+ Music Downloader Apps
Part 2: Top 7 Apps for Free Music Download on Android.
1. SoundCloud
SoundCloud has a large library of music. This app allows you to listen to millions of music from all around the world. You can download or upload music for free.
SoundCloud has over 120 million tracks and mixed uploaded by its users.
Users can create playlists, share their tracks with friends, or download them for offline use
SoundCloud is available on Web, iOS, Android, Chromecast, and Xbox One.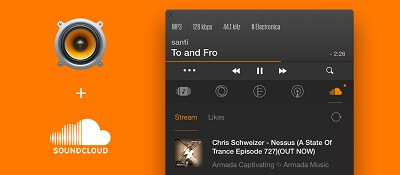 2. Google Play Music
Google Play Music is familiar to many people, which has a huge collection of music with availability on numerous platforms. It is the best choice for Android fanboys to download free music.
You can connect your Google account and other services with the app.
Stream and download numerous songs
You can share songs on social media apps or listen to radio channels.
Available in different languages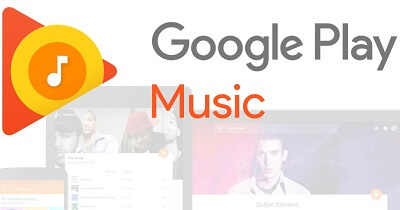 3. Music Paradise MP3
Music Paradise MP3 offers you free and unlimited music ranging from top popular hits to underground songs and mixes. Users can listen to millions of songs or create custom offline playlists to listen to their favorite music whenever they want.
Music Paradise Mp3 app got a simple design. The app also comes with a player and a download manager that supports multiple jobs simultaneously.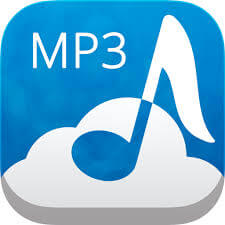 4. Music Free Download Pro
If you want to listen to unlimited music on one website but not find a song here and there, then Music Free Download Pro will be a great choice for you. You'll be able to download songs, including some big pop hits, but your selection will be limited by what's on the website.
The Pros is that Music Free Download Pro has a Clean interface, an Integrates player, and a web browser. The cons is that the download speed is not stable.
5. Advanced Download Manager
On Advanced Download Manager, you can download from internet up to three files simultaneously, including MP3s and MP4s, and the download speed is really fast.
Its advanced settings allow you to customize how the files are downloaded, such as limiting the speed of the download and the number of simultaneous downloads.
Advanced Download Manager has a built-in Browser which supports multiple taps and makes users easily download all types of files. Once you find what you're looking for it makes light work of downloading tracks.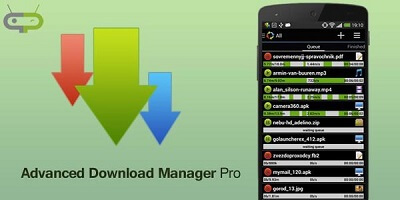 6. iDownloader
iDownloader not only supports music download but also provides video downloads, players, photo viewer. It even comes with a web browser. On this platform, you can manage music by Song, Playlist, Artist, and Album. It has numerous features which make it great.
Listen offline – no internet or WiFi needed
Support many audio format files: mp3, m4a, etc.
Support clouds: Dropbox, Box, Google Drive and OneDrive.
Manage music by Song, Playlist, Artist, and Album.
Download and listen to music offline.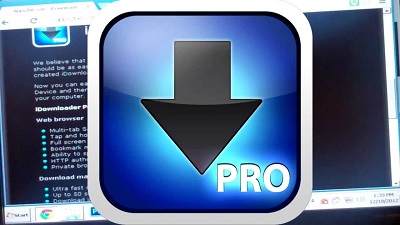 7. 4shared
4shared has an enormous library of free music. It allows you to search its vast database of files for your favorite music and automatically filters searches so that they only display MP3 files. 4shared provides storage for music, video and photo files and it will automatically add the music you have downloaded to a 15 GB cloud folder, which also allows you to add your own tunes, and thus you can listen to the music offline.
If you want to find classic, out-of-copyright music or some great tunes from emerging artists, 4 shared will be a great place.
Now you have known the top 8 apps where you can download music for free. Get any one of them and start to enjoy your music!
Read more: