Hindi movie songs, also called Hindi film music, are heart touching and make the Hindi movies more appealing.
If you are finding a way to download Hindi songs of a movie, read the post to learn how to download Hindi movie songs for free via InsTube music downloader.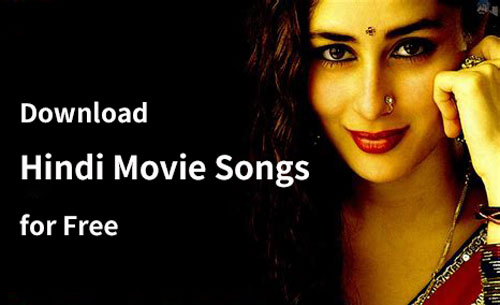 Download Hindi Movie Songs from YouTube
InsTube app enables you to download Hindi movie songs from many sites.
And YouTube is the most popular video site that you can download videos and music from.
Here are steps for you to download your desired Hindi movie songs from YouTube.
Step 1. Install InsTube Downloader on your Android Device.
Generally, YouTube disallows you to download most videos or requires you to pay for downloading.
To download Hindi movie songs from the site for free, a video or music downloader is necessary.
Download InsTube music downloader from its official site and then install it on your Android phone.
Also, you can download this video downloader directly via the button below:

Don't worry if the phone blocks InsTube from installing, you can refer to InsTube installation guide.
Step 2. How to Find Hindi Movie Songs on YouTube.
Search Hindi movie songs with keywords on YouTube.
It is easy to find the music you are looking for, but sometimes you may get some unrelated results in this way.
For example:
When you search Hindi movie songs from Sanju on YouTube, the first result is a topic named Sanjay Dutt which is not related to Sanju movie music.
Just scroll down the results to find all music videos about Sanju movie songs.
The download will be completed quickly if you know the names of Hindi movie songs.
In this case, enter keywords in the search box of search engine to find your target music.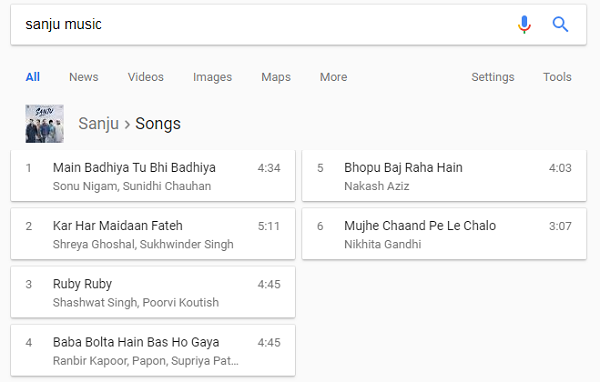 Given that you are expecting to download Hindi songs in Sanju, what to do if you don't know the songs' names?
Search "Sanju music" or "Sanju songs" and then all songs in Sanju movie appear immediately.
Finally, find the Hindi movie songs by names on YouTube.
Step 3. Choose the Videos of Hindi Movie Songs.
Lots of music videos appear after searching the movies' name plus "music".
For instance:
When you search "Sanju music", music videos related to Sanju movie will show on the page.
You may have "Sanju: Kar Har Maidaan Fateh", "Sanju: Main Badhiya Tu Bhi Badhiya", "Ruby Ruby", etc.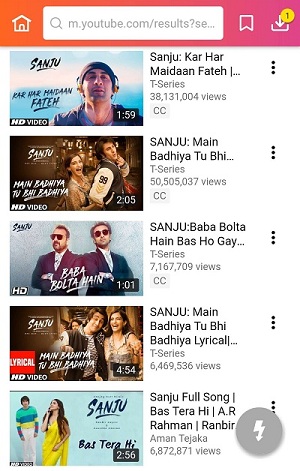 How do we select an appropriate music video to download if there are several videos about the same song?
The video length is the key consideration.
When you get two music videos about "Main Badhiya Tu Bhi Badhiya" in the result of "Sanju music", choose the longer video if you want to download a full song.
Or download the short one if you only want the highlight.
Step 4. Download the Hindi Movie Songs via InsTube.
Open the Hindi music video you desire to obtain songs from.
And then you will notice the red download button of InsTube.
Tap the button to choose the format of the song in "Music" section to download music only.
Then click the "Fast Download" button to complete the Hindi movie song download.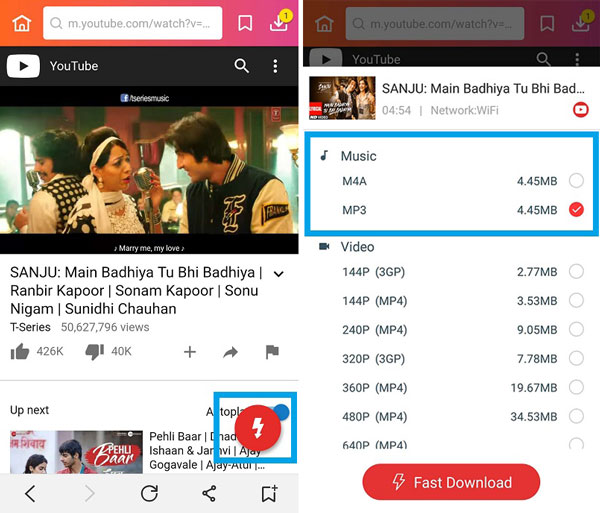 Download Hindi Movie Songs from SoundCloud.
YouTube is not the only site you can download Hindi movie songs from.
InsTube gives you more options by supporting over 30 sites.
SoundCloud is a popular music site that InsTube supports exactly.
If you are a SoundCloud fan, you obviously know you cannot download music from the site for free without the help of a downloader.
Thus, you need to install a music downloader on your Android phone before downloading the songs.
After the installation, go to SoundCloud through InsTube or open SoundCloud app to find the songs.
Supposing you want to download Sanju movie music, you can find them by searching "Sanju music", "Sanju movie music", or "Sanju movie songs" in SoundCloud.
Finally, follow How to Download Music from SoundCloud to save the Hindi movie songs in your cell phone.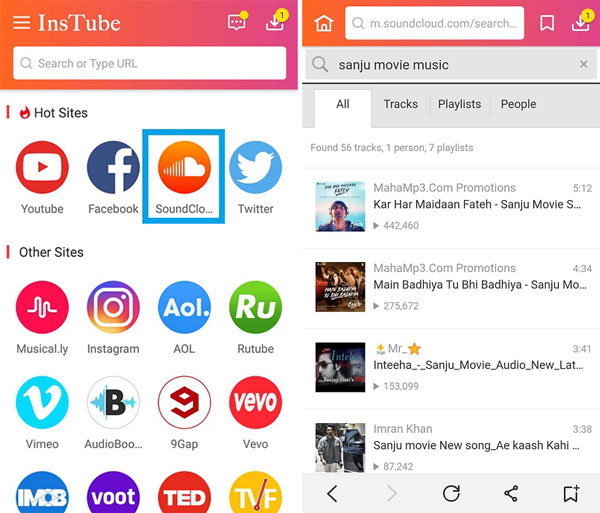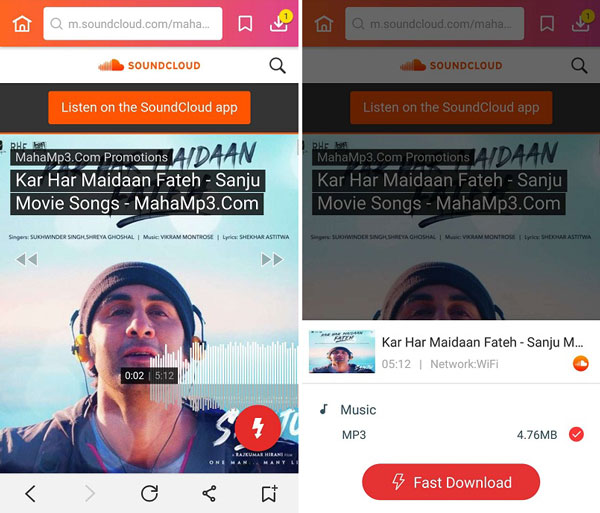 Wrap up
Almost all popular Indian movie songs can be found in YouTube and SoundCloud.
If you fail to find Hindi movie songs in the sites, there are many other sites for you to download the Hindi movie songs with InsTube.
Read More:
Contact us via support@instube.com if you encounter any problems on using InsTube or Hindi movie songs download.