Thuppakki songs become popular after the film of the same name released.
As one of the wonderful action thriller movies in 2012, Thuppakki not only got numerous accolades from many film festivals but also be successful at its soundtracks.
There are 7 songs in the Thuppakki album, and positive reviews hit the songs after both the Tamil and Telugu movies were released.
If you want to go over Thuppaki songs or download the movie soundtrack, then continue reading.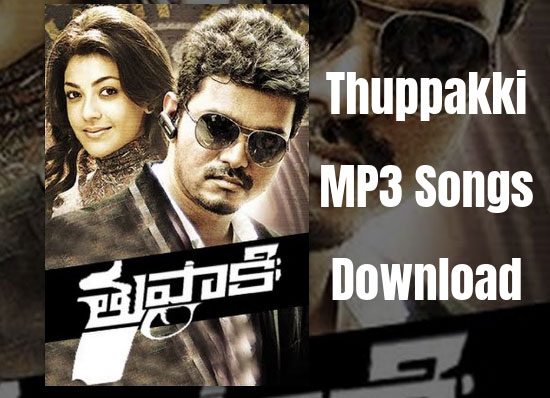 Firstly, let's have a brief review of the Thuppakki songs and check method for Thuppakki MP3 songs free download.
Thuppakki Songs Review and Online Listening (Tamil & Telugu)
As we all know, the album was published in two languages under the same title.
And the following are some info about each track and its YouTube resources.
Thuppakki Music in Tamil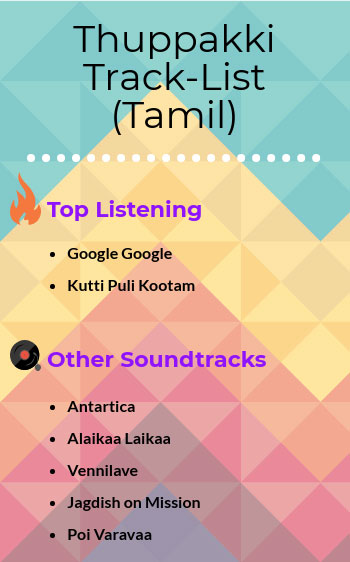 #1 Google Google
Everyone will be impressed by the playful lyrics performed by Vijay.
Google Google is for those young men who connect themselves to the vibrant Internet, rap music, colorful nightlife and popular elements among them.
Singers: Vijay, Andrea Jeremiah, Joe, Krishna Iyer
Lyrics: Madhan Karky
#2 Kutti Puli Kootam
This is another song in Thuppakki album that won most praises.
And what else, you will get inspired by the percussions and the soldiers' dance.
Singers: Hariharan, Tippu, Narayanan, Ranina Reddy, Satyan
Lyrics: Viveka
#3 Antartica
With the harmonic vocal by Rajeev and Devan, also, the guitar, this Thuppaki song was performed to its perfect.
Singers: Vijay Prakash, Krish, Devan, Rajeev
Lyrics: Madhan Karky
Listen Antartica - Thuppaki song in full video: https://youtu.be/BfVDL3ZnEGQ
#4 Alaikaa Laikaa
Singers: Javed Ali, Sharmila, Sayanora Philip,
Lyrics: Pa. Vijay
Listen Alaikaa Laikaa - Thuppaki song: https://youtu.be/zXLuM4ITn8Q
#5 Vennilave
It starts with Hindi and then changes to Tamil poem.
The song opens with a charming Hindi chorus but makes a forceful transition into the Tamil poem.
You can say that Vennilave is a beautiful melody song Harris Jayaraj always rocks.
Singers: Hariharan, Bombay Jayashri
Lyrics: Na. Muthukumar
#6 Jagdish on Mission
It is the theme of music with electronic rhythm that makes listeners see heroes and their strength.
Listen to this Thuppaki movie music: https://youtu.be/5RuGu_LHOMk
#7 Poi Varavaa
Poi Varavaa is a song that shows the feelings of a soldier who are leaving for frontline.
When listening, you can definitely experience the soldiers' emotion in parting from their family.
Singers: Karthik, Chinmayi
Lyrics: Pa. Vijay
Thuppakki Soundtrack in Telugu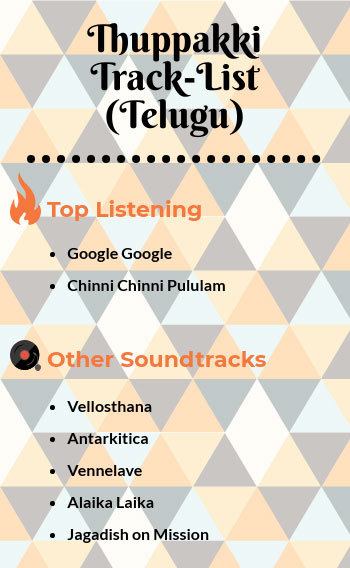 If you prefer listening Thuppaki songs in Telugu, here are some info for you.
#1 Chinni Chinni Pululam
Chinni Chinni Pululam is in Thuppakki Telugu album, and this Tuhppakki song is corresponding to Kutti Puli Kootam in the Tamil track.
Singers: Konda Hariharan, Tippu
Lyrics: Kandi
#2 Google Google
Different from the song in the same title above, this soundtrack version got lyrics by Kandi Konda while Vedala Hemachandra and Andrea Jeremiah gave the voice recording.
Singers: Vedala Hemachandra, Andrea Jeremiah
Lyrics: Kandi Konda
Listen to Google Google - Telugu Thuppaki songs: https://youtu.be/ew0plpvtx5g
#3 Vellosthana
The same rhythm with #7 above.
Singers: Hariharan, Bombay Jayashri
Lyrics: Vanamali
#4 Antarkitica
Singers: Vijay Prakash, Devan, Krish,
Lyrics: Ramajogayya Sastry
#5 Vennelave
Singers: Hariharan, Bombay Jayashri
Lyrics: Vanamali
#6 Alaika Laika
Singers: Javed Ali, Sharmila, Sayanora Philip
Lyrics: Kandi Konda
#7 Jagadish on Mission
Also, this music is the same as that one in the last section.
How to Download Thuppakki MP3 Songs
As what I have listed above, it is available for you to find Thuppakki songs from YouTube as many as you can.
But how can we download the songs since YouTube doesn't offer music video download, let alone MP3?
Don't worry!
Now you have InsTube video downloader app.
It is a safe and free Android app allowing you to quickly get videos or songs in appropriate formats from sites like YouTube, Hotstar, Dailymotion, Vevo, Tik Tok, and other 100+ sites.
Here are 3 easy steps to get background music of Thuppakki film with this tool:
Step 1. Download InsTube video downloader via the button below.
Or you can get APK from uptodown.com app store.

Step 2. Paste Thuppakki songs URLs to the search bar in InsTube.
Or directly find the song video within YouTube application.
Then tap red download button appearing at the bottom right corner.
Step 3. Choose MP3 format or MP4 in different resolution.
And then tap "Fast Download".
Your Thuppakki Tamil movie MP3 songs have been free downloaded to your smartphone!
Check them now.
Besides, you can also download Thuppakki Tamil full movie and Telugu movie with this method.
Bonus: Thuppakki Movie Related Resources
Not only can you download Thuppakki songs I've listed above, but also moive related videos.
Here are some other Thuppakki songs and movies links you may need:
Thupaki Full HD Video Songs in Telugu Playlist
Download Thuppakki Full Movie in Tamil/Telugu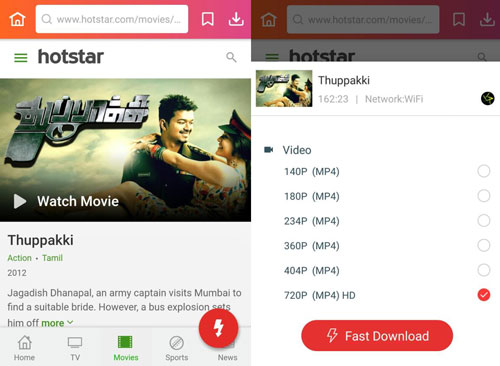 For more Bollywood or Punjabi full film songs resources, please pay attention to this site and keep your eye on the ball.
Share with your friends on Facebook if you like this post.
Note: If the Thuppakki songs links are Not Working, please contact support@instube.com and we will update the TV show resources as soon as possible.
See Also: