Maheshinte Prathikaram full movie got its premiere on 5 February 2016 in Kerala. As director Dileesh Pothan's debut film, this Malayalam comedy-drama became one of the commercial successes in the Mollywood film industry.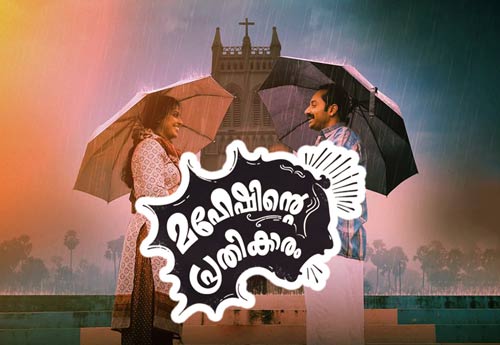 After that, Maheshinte Prathikaram (2016) had two remakes in different languages:
Nimir (2018) - Tamil
Uma Maheswara Ugra Roopasya (2020) - Telugu
Starring Fahadh Faasil, Aparna Balamurali, and Soubin Shahir in the leading roles, Maheshinte Prathikaaram (2016) movie tells a story of a photographer waiting for an opportunity to retaliate against a man but falling in love with the man's younger sister.
So, if you are interested in this Malayalam comedy-drama, InsTube Movie will tell more about Maheshinte Prathikaram full movie download, songs, cast, and more.
Content:
Maheshinte Prathikaram (2016)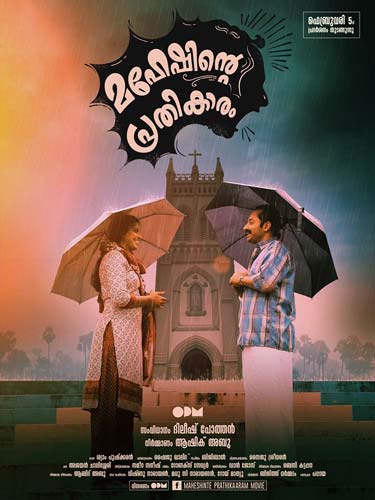 The following is some basic info of the film:
Original Title: Maheshinte Prathikaram
AKA: Maheshinte Prathikaaram, Mahesh's Revenge
Language: Malayalam
Genre: Comedy, Drama, Thriller
Release Date: 5 February 2016
Runtime: 120 min
IMDb: 8.3/ 10
Box Office: ₹17.35 crore
Director: Dileesh Pothan
Cast: Fahadh Faasil, Aparna Balamurali, Soubin Shahir
Now, let's see more details:
Movie Review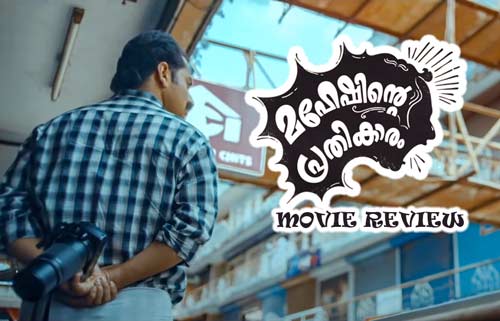 Maheshinte Prathikaaram is Dileesh Pothan's directorial debut, but it received positive reviews for its cast, music, screenplay, and more after the release. It is such a sweet and irregular revenge story weakening the anger and hatred and taken over by humor.
Finally, the Malayalam film won nearly 30 awards, including Filmfare Awards South. Plus, the movie was remade into Tamil as Nimir (2018) and Telugu as Uma Maheswara Ugra Roopasya (2020).
Next, let's check more of Maheshinte Prathikaram full movie:
Plot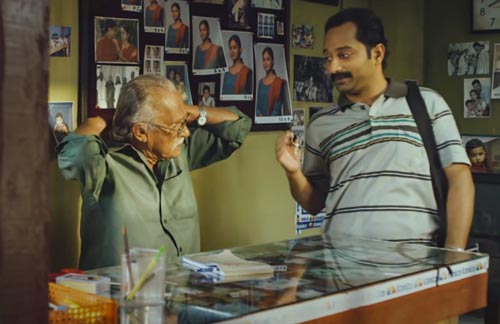 Mahesh (Fahadh Faasil) is a young photographer, but he is not that professional in photo shooting. He and his father Vincent (K. L. Antony Kochi) own a studio while their friend, Baby (Alencier Ley Lopez), runs a printing shop next door.
The two families get along well with each other. Moreover, Mahesh and a nurse are in a relationship. However, soon, their relationship ends.
The trouble all starts from a scuffle.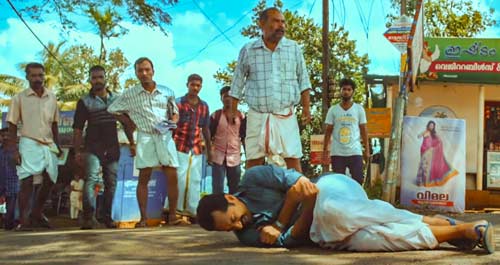 One day, Baby is squabbling with an idler outside their shops. Then, the argument deteriorates into a physical altercation. Mahesh tries to break them up, but unluckily, he gets humiliated by a man named Jimson (Sujith Shankar).
Embarrassed and aggrieved, Mahesh hurls an oath to take revenge on Jimson, or he won't wear slippers. But when looking everywhere for Jimson, finally, Mahesh learns that he has gone abroad for a job.
Experiencing both dishonor and breakup, Mahesh is very indignant. So, he enrolls in a course to study kung fu as waiting for Jimson's return.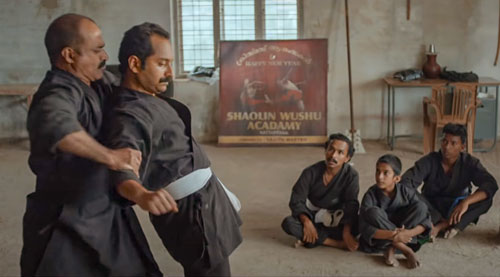 Another day, a college girl named Jimsy (Aparna Balamurali) comes to the studio. She wants a decent photo for a cover competition. But as an amateur photographer, Mahesh does not satisfy her. Perturbed, Mahesh re-studies how to shoot a good photo and surprises Jimsy.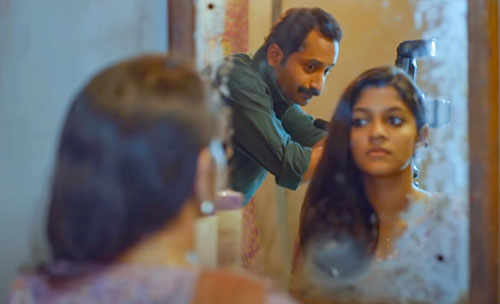 Gradually, Mahesh and Jimsy fall for each other. However, when Jimsy takes Mahesh to meet her family, Mahesh finds Jimson is Jimsy's brother.
How will Mahesh cop with this situation?
Will the two young men fight again?
Can Mahesh and Jimsy continue their relationship?
Similar Movies:
Cast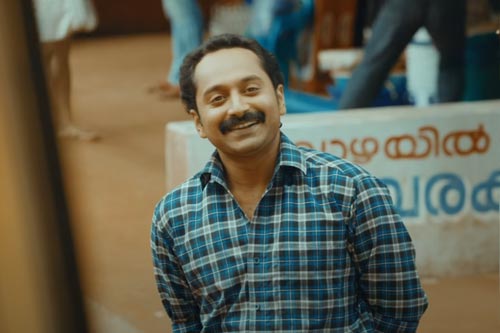 Fahadh Faasil played the leading role, Mahesh, in Maheshinte Prathikaaram movie. In the irregular revenge film, Mahesh is an amateur photographer who involved a trifle argument.
Then, Mahesh's life turns upside down because Jimson brings disgrace to him. He won't put on his footwear until he takes revenge. But later, Mahesh falls for Jimson's sister, which makes the film a rib-tickling comedy.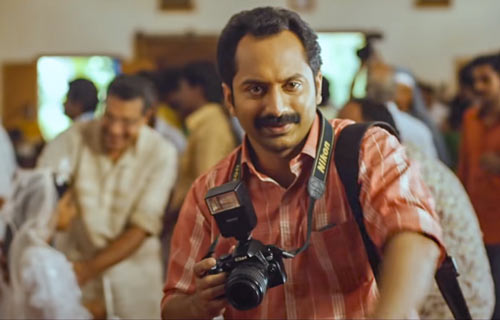 Fahadh Faasil successfully portrayed his character from an uninitiated to a confident man. Also, the two scenes of rain burnish Fahadh Faasil's character. Eventually, due to his excellent performance in this movie, Fahadh Faasil won the Best Actor at the 64th Filmfare Awards South and the other two film awards.
Besides, you may be familiar with his other movies, like
The main cast: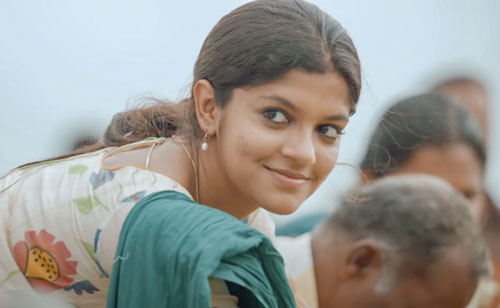 Fahadh Faasil - Mahesh
Aparna Balamurali – Jimsy (Jimson's sister)
Anusree - Soumya, (Mahesh's ex-girlfriend)
Sujith Shankar - Jimson (Jimsy's brother)
Alencier Ley Lopez – Baby (owner of the printing shop)
Soubin Shahir - Crispin (Baby's assistant)
K. L. Antony Kochi - Vincent (Mahesh's father)
Lijomol Jose – Soniya (Baby's daughter)
Jaffer Idukki – Kunjumon (Soumya's father)
Maheshinte Prathikaram Songs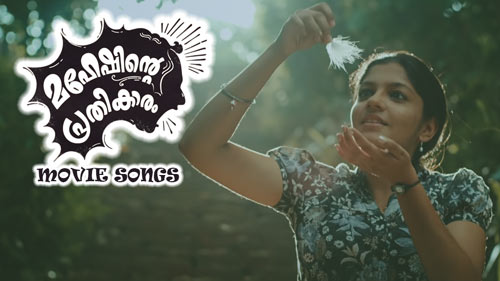 The movie album for Maheshinte Prathikaram (2016) contains 6 soundtracks. Rafeeq Ahamed and Santhosh Varma penned the lyrics, while Bijibal composed the music. The later also join music compose of Maheshinte Prathikaram's remake, aka Uma Maheswara Ugra Roopasya (2020).
Maheshinte Prathikaram Songs List:
"Idukki"
"Theliveyil"
"Mounangal"
"Cherupunjiri"
Note: You can get Maheshinte Prathikaram songs download in MP3 from YouTube with a YouTube video downloader app.
Maheshinte Prathikaram Full Movie Download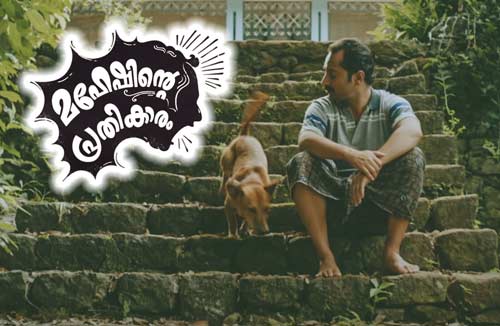 To protect the movie copyright, we recommend you to online watch Maheshinte Prathikaram full movie or download it via movie sites with the copyright.
Due to the COVID-19 epidemic, many OTT platforms have allowed the latest movie streaming, such as Zee5, Hotstar, Amazon Prime Video, etc. And Maheshinte Prathikaram Malayalam full movie online MP4 is also available on the OTT streaming sites.
But how should we download Maheshinte Prathikaaram movie in Malayalam, Telugu, Malayalam, or other dubbed languages?
How to Download the Movie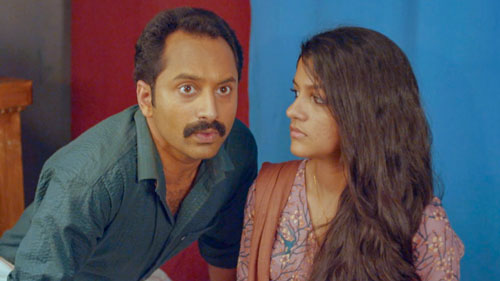 Well, Maheshinte Prathikaram Full Movie Watch online or trailer MP4 free download is available on many movie sites. But you may not want your Android phone to be installed with various video apps.
Then, why not try an all-in-one solution?
What if a movie video downloader app that features all the legal movie sites? For example, InsTube.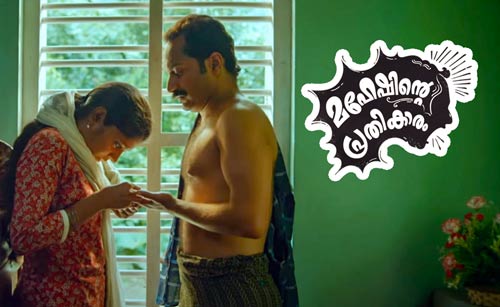 Maheshinte Prathikaram Movie Download in Malayalam [HD]

It is a FREE video downloader app featuring a browser directly connected to 100+ movie sites.
So, you can Download Maheshinte Prathikaram 2016 Full Movie in HD 720p from legit sites: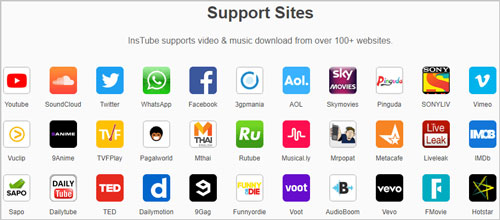 Note: Don't refer to Maheshinte Prathikaram Full Movie Download from any copyright infringement site.
As we all know, there are threats to movie leaked online on torrent sites, such as
Filmywap
Filmyzilla
TamilRockers
PagalWorld
Bolly4u
uTorrent
Mkv Movies King
Openload
MovieZ
Dailymotion
Torrentz2
…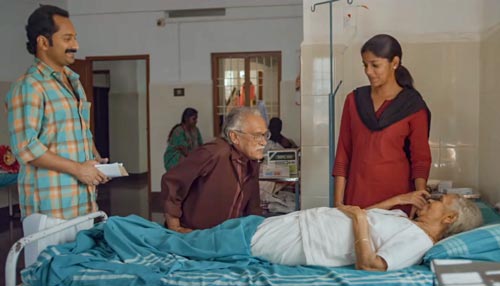 Also, there are the search engines full of results with keywords like Maheshinte Prathikaram Full Movie Download 720p, Maheshinte Prathikaram Netflix, Prathikaram Full Movie Watch Online Tamilrockers, Maheshinte Prathikaram Torrent, and more.
But we still recommend you watch the movie at a local theatre or download it from sites with the copyright. If we do not download leaked movies, then piracy sites may gradually decrease Maheshinte Prathikaram movie download.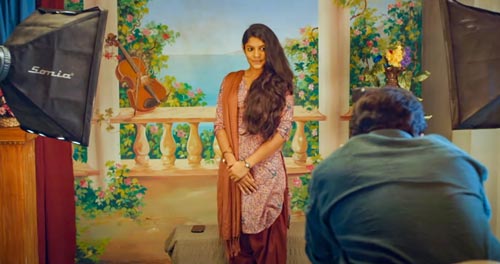 That's it.
This is all about Maheshinte Prathikaram Full Movie Download.
Share with your friends on Facebook if you like this post.
Read More: