These days, a music downloader for Hindi MP3 songs free download seems to be an indispensable part to most people.
As you can see, although there are some great websites, like YouTube and Facebook, you cannot directly get Hindi songs free download from such sites.
Even music websites like SoundCloud do not allow users to download all the contents. At this time, a great music downloader for all music is important.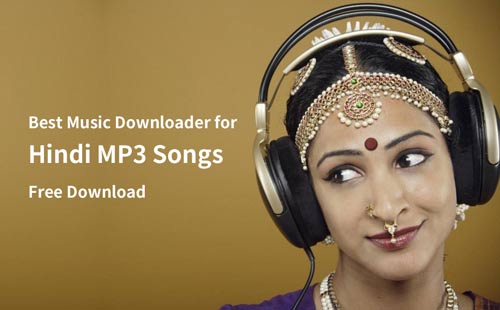 Hindi movies are incomplete without dance and music. Hindi songs, the same as Hindi movies, attract a lot of fans with its unique features.
Do you know how to get Hindi MP3 songs free download? If not, read the contents below to find the best music downloader for that.
InsTube – The Best Music Downloader for Hindi Songs Free Download
What are the features that a good music downloader should have?
Free music or video to MP3 converter?
InsTube, a video and music downloader, is listed at the top for several reasons. Let's have a look together to find out the secrets of being the best music downloader.
Free MusicInsTube offers the best music downloader for downloading high-quality Hindi MP3 songs for free. It is totally free and fast.
In addition, users can get Hindi MP3 songs free download from tons of awesome music sites like YouTube, SoundCloud, Vevo, etc.
So, if you are looking for an app where you can find as many Hindi songs as possible. InsTube is supposed your best choice.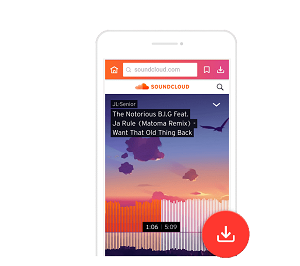 Video to MP3 ConverterThis is useful for those who want to convert their music video to MP3 format.
There are two ways to achieve that on InsTube. Users can choose the MP3 format in the downloading process, or they can tap on the downloaded video and choose "play as music" to convert it to MP3 format.
A Built-in Music PlayerInsTube has a built-in music player, and thus users can play music from their music library inside this app.
Users can also set up a private music library here since InsTube has a built-in locker.
Therefore, others can't access the private space without entering the passwords.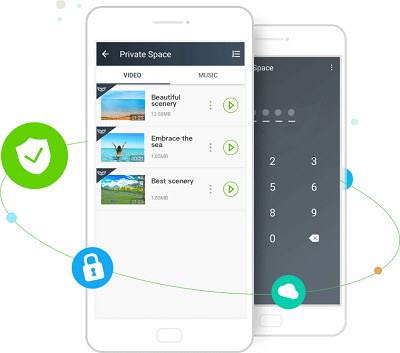 There are also many other features.
For example, users can set multiple network connections for tasks to speed up songs download.
InsTube also allows users to download many songs at the same time.
One can set the download tasks and download mode in InsTube settings.
The app is verified by security software like CM Security, Mcafee and Lookout, and you can download this safe music downloader via the download button below, or go to Uptodown website for the APK.

Now that you have known those features of InsTube music downloader, you must have found that this is the best place for you to get Hindi songs free download.
Follow us to see the steps to download Hindi MP3 songs for free with this music downloader.
How to Get Hindi MP3 Songs Free Download
It is quite easy to get Hindi MP3 songs free download on InsTube, which only takes you four steps. Now, let's take downloading Hindi song "Aaj Se Teri", a song in popular Bollywood movie "Padman", as an example to show you that.
Download Hindi Songs "Aaj Se Teri" Via InsTube
Step 1: Search Hindi Song "Aaj Se Teri"
Open InsTube firstly. You can search the Hindi song in the search box on the top, or you can enter any one of the websites on InsTube's homepage to find the song.
Here, we launch the YouTube website and enter "Aaj Se Teri" into YouTube's search box. As a list of results show, tap on the one you need.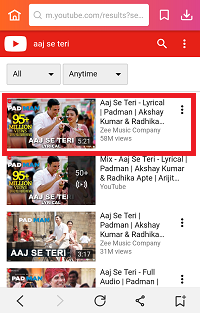 Step 2: Tap on the Download Button
A red download button will appear on the bottom right corner. Tap on that button.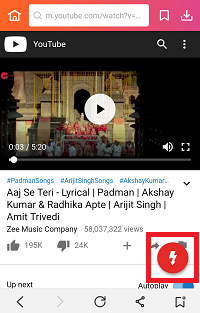 Step 3: Choose MP3 Format for the Hindi Song
Choose the MP3 format for Hindi Song "Aaj Se Teri" on the pop-up page. Then, tap on "Fast Download" button.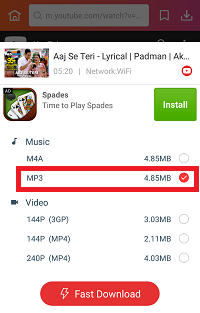 Step 4: Check the Download
Check the Hindi MP3 song free download in the files. Simply tap on the download icon on the upper right corner to enter the DOWNLOAD file.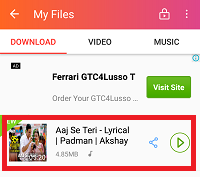 Now, you have got your Hindi MP3 songs free download. isn't it fast and easy?
Of course, InsTube provides other ways to download Hindi MP3 songs. You can turn to here to know 6 ways to download videos and music from YouTube, Vevo, Soundcloud, etc.
You can get InsTube on its official website to download Hindi MP3 songs for free. You can also install this music downloader from popular app stores like Uptodown.com and Download.com.
It should be noted that all those music downloaders are not on Google Play, so make sure your Android enable third-party apps installation.
Go to Settings on your phone and switch to the "general" tab, if needed.
Tap on the "Security" option.
Tick the checkbox of "Install apps from third-party sources".
Confirm the warning message by tapping on "OK".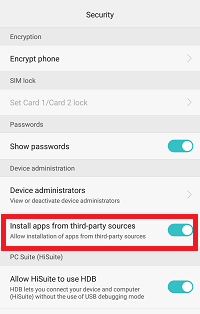 Now, you can get Hindi MP3 songs free download and enjoy your weekend with InsTube. Welcome to contact us via support@instube.com.
Read More: