This post will explain how to get $100 and more money from the InsTube app by logging in, sharing the app, and doing daily tasks.
When you open InsTube app and tap the menu at the top left corner, some words like "US$50" and "+$10" will catch your eyes. What do the words mean?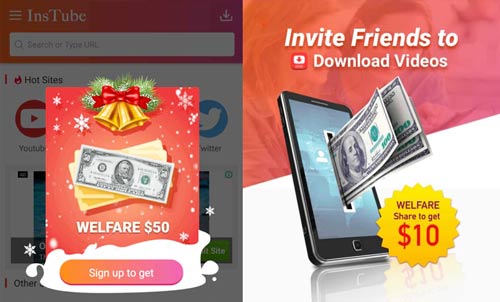 Get $50 after Your First Login.
To keep your information safe, you may not willing to register accounts in some apps. InsTube is a safe app which never collects users' personal information. It allows users to download videos and music without logging in the app.
However, one may use an app more frequently if he/she has its account. Therefore, InsTube attracts users to log in the app by giving $50 to their account at their first login.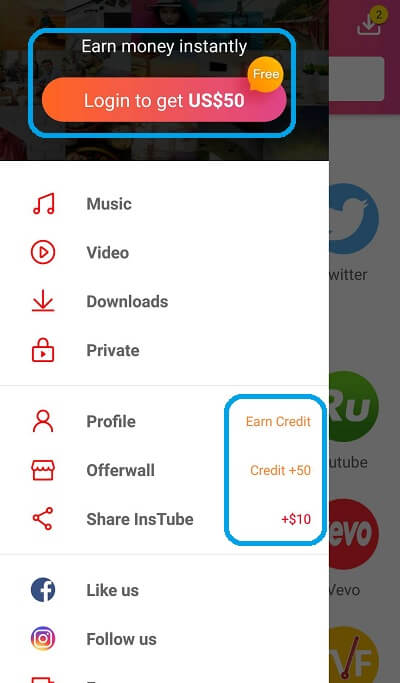 Don't worry about the security of your personal information. InsTube won't collect your data since it hopes you to use the app frequently after registering instead of collecting your information to analyze your preference.
InsTube doesn't offer a video list on the homepage like other video downloaders that intend to know your watching preference.
Get $10 after 10 Friends Enter Your Invitation Code.
InsTube free downloader is a good tool for downloading videos and music. It deserves more likes because it really helps users without any payment. Therefore, InsTube has an activity for InsTubers to let them share the app with friends.
If you share InsTube with 10 friends, you will get the $10 once the friends confirm your invitation code in their InsTube apps. Meanwhile, your friend will get $1 after installing InsTube and entering your invitation code.
Related: InsTube Invitation Code: Get $10 by Sharing InsTube App
Exchange InsTube Credit into Money.
InsTube has daily tasks and bonus for users to earn InsTube credits. The tasks are easy to complete and won't waste your time. Here is the task list:
Keep Using InsTube for 3 Minutes
Daily Bonus
Download Offerwall Apps
Download a Video/Audio
Share a Video/Audio
Move a Video/Audio into Private Space
Draw a Lottery
After getting the InsTube credits, you can exchange them into money. Please refer to the guide How to Earn InsTube Credits and Exchange Them into Money to get details if you want to know more.
Finally, you are able to withdraw the money to your Paypal or card when the balance is more than $100.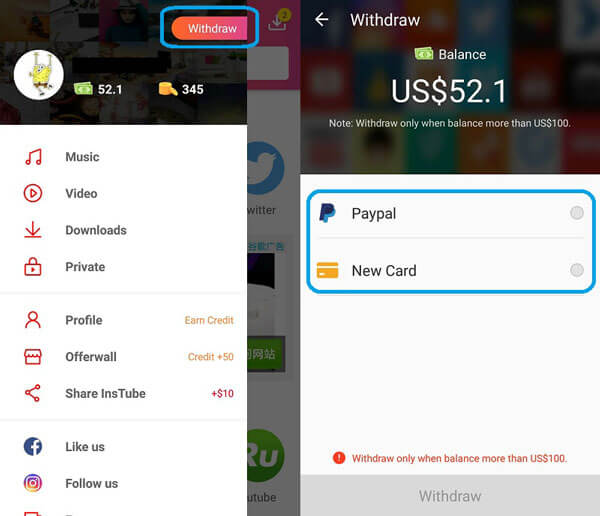 It will take time to get the $100 though, some InsTubers have done hard and got money from InsTube app. Hope you will get the $100 soon!