What are some of the best movie quotes? Which is your favorite movie quote? This post introduces some famous movie quotes which most people think they are the best.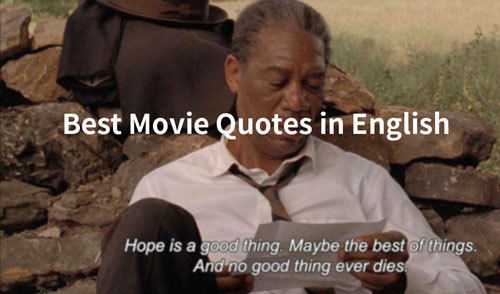 Top 12 Best Movie Quotes in English
Due to different people have various ideas about their best quote from the same movie, we show the movie's name first and then display one or several quotes.
#1. The Shawshank Redemption
"I have to remind myself that some birds aren't meant to be caged. Their feathers are just too bright."
"Hope is a good thing, may be best of things and no good thing ever dies."
"Get busy living, or get busy dying."
#2. Fight Club
"It's only after we've lost everything that we're free to do anything."
"You're not your job. You're not how much money you have in the bank. You're not the car you drive. You're not the contents of your wallet. You're not your fucking khakis. You're the all-singing, all-dancing crap of the world."
#3. Godfather
"Keep your friends close, but your enemies closer."
"Finance is a gun. Politics is knowing when to pull the trigger."
#4. The Dark Knight Rises
"A hero can be anyone, even a man doing something as simple and reassuring as putting a coat on a young boy's shoulder to let him know that the world hadn't ended."
#5. Forrest Gump
"My mama always said life was like a box of chocolates. You never know what you're gonna get."
#6. When Harry Met Sally
"When you realize you want to spend the rest of your life with somebody, you want the rest of your life to start as soon as possible."
#7. 12 Years a Slave
"I don't want to survive. I want to live."
#8. Rememory
"We don't know the true value of a moment until it becomes memory."
#9. A Dog's Purpose
"Humans are complicated. They do things dogs can't understand. Like leave."
#10. To the Bone
"Stop waiting for life to be easy. Stop hoping for somebody to save you. Face some hard facts and you could have an incredible life."
#11. V for Vendetta
"Artists use lies to tell the truth. Yes, I created a lie. But because you believed it, you found something true about yourself."
#12. The Social Network
"A million dollars isn't cool. You know what's cool? A billion dollars."
These inspirational quotes are thought the best movie quotes ever. If you don't agree with them, you can share your favorite movie quote with us.
How to Download the Movies for FREE?
If you have not watched all of the movies or want to watch some again, download the movies from internet for watching offline is a good choice.
Follow the guides to download movies from different movie sites:
Follow these guides to download movies in different languages or from different areas:
If you want to download other movies, you can take one of the above guides as reference to download them for free.