Block Farm Saga, a match 3 puzzle game in 2020, has been published by VooVoo Game on the official Google Play website and other popular Android app stores like APKPure.com.
As a companion game of the cube game, Three Squirrels, Block Farm Saga is an advanced puzzle game and farming simulator for Android mobile devices.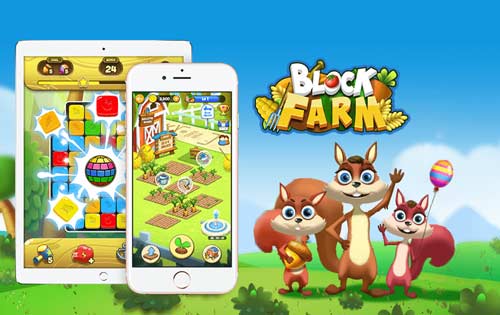 Match 3 Puzzle Game
There are many cube blasting games in which players pop blocks to get high scores, props, or other awards. But in Block Farm Saga, the gaming play is far more interesting than the common puzzle games.
All the blocks here are about plants. Players need to swap at least 3 adjacent crop blocks of the same color to solve the puzzle. But what makes it fun is that players must finish the puzzle within limited moves.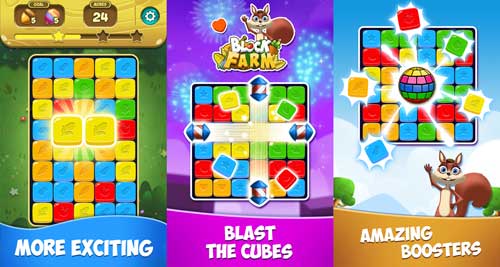 Once a serial cube reacts in a chain, players will gain a wide variety of items to help the puzzle solution, like boosters, bombs, rockets, disco balls, etc. Also, the rabbit will drop a hint to blast the blocks if it gets enough carrots.
There are unlimited levels in Block Farm Saga. And the game difficulties gradually increase as you enter the next stage. But it is fun to collect gems and open a secret chest after a level. Besides, if you are an excellent puzzle solver, you may rank No. 1 in the game.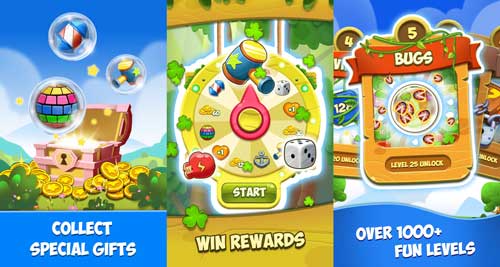 Plus, the match 3 puzzle game also allows players all around the world to team up and compete for a reward.
And what players win in the game will help to run the farm. Let's see how it works:
Happy Farming Simulator
Farming is a second part of the game.
Block Farm Saga allows players to grow fruits and vegetables and fertilize plants on the farm. Besides, players can also expand a lush world by managing warehouses, feeding animals, selling crops, collecting coins, and building houses.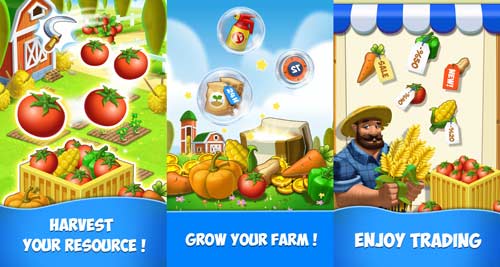 Well, the coins are useful here: Players can spend coins to purchase materials for the farm or exchange them to gems for the puzzle game in the first part. 1 gem = 500 coins. So, it needs prop tactics to boost your farm upgrade.
Plus, to be a tycoon in the farm, payers can also create a community and farm with friends.
Where Can I Play Block Farm Saga?
Block Farm Saga puzzle game for Android has been on Google Play now, click here to download the puzzle game app and have fun!
Or click the picture below to play the game: