Before moving ahead, let's make a point very clear, that why people still in this advanced technological world has not jumped into video marketing to promote their business, product, or services.
It's because they have a fear that it will cost them a lot. It is not that they cannot create a compelling video that can engage the audience, but they think that it will drain their hard-earned money and in response, they will not be successful in generating enough traffic to their websites.
Most of the people think that videos may not be able to generate value to the business, but you have to think the other way around. It is not an argument, but the fundamental base to expand your marketing segments.
People have misconceptions regarding video marketing, as they think it will cost them a lot of dollars. They are always figuring out that either the cost will justify the output.
You can utilize videos to expand your customer outreach by asking them different questions, providing them material according to their taste.
You can ask them to suggest topics that can be covered in the videos. It will increase your interaction with them. You can give them an offer to win a free product if they ask a question.
Initial Video Marketing Tactics Usually Fail
Whenever you first try something new, you don't have an in-depth idea that how it will work, what will be the hurdles, and how to effectively use different tools to make your marketing outreach stronger. It is not only related to video marketing, but it can be related to all the fields.
Benefits of Video Marketing
As we discussed earlier, video marketing could prove to be the best option for advertising and promotion of your products or services. Let people know about your products by making feature videos about your most popular products and let them know how it can benefit them, and it is their need to buy the product or service.
Demonstrating products and services in videos is an excellent idea to engage your prospects. Give them a detailed examination of products; you can test these products in extreme situation in your videos, and above all give close-ups of products to them, so that they can get convinced to buy your product.
Whatever product you are selling it can work for any of them. Make sure to create high-quality video to attract and engage the audience. You can add different background music to make it more fascinating.
You can hire professional video maker consultancies or firms to create attractive videos for you. Or you can even make it on your own by hiring a full-time employee to make the video.
But before that, you will have to work a lot on Research & development to extract the latest market trends and add a bit more into it. The basic mantra to add engaging content is to work on what your audience expects from you.
Many people around us make it possible to make good videos, but they fail as they are not aware of the market trends and the nature of the targeted audience.
Look Keenly at your Competitors
You have to keenly observe your competitors strategy to gain something from them; it will help you to know how actually video marketing works. You can explore their avenues to get more into the market. Apart from that if you are afraid of competition, you can try to make your own market by targeting a specific set of audience. But it will require a lot of hard work. You can watch the videos of your Competitors and get ideas from it.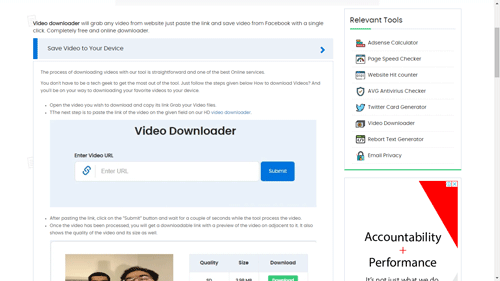 Apart from that if you are not good at making unique videos, you can even download videos from the Internet by using Video downloader and edit it according to your need. Add your company and product name. You can add more stuff into the video by using simple tools available over the web.
So, if you haven't tried video marketing, then get into this segment as it will help you to generate leads, which can ultimately become your potential sales. Never underestimate the power of video marketing, because you can get a lot out of it.