Sudoku is a popular number puzzle to train your brain. JayHole Game recently released its new number game - Sudoku on the official Google Play website.
It is a FREE classic number puzzle for Android mobile devices. Let's have a look at this math puzzle game.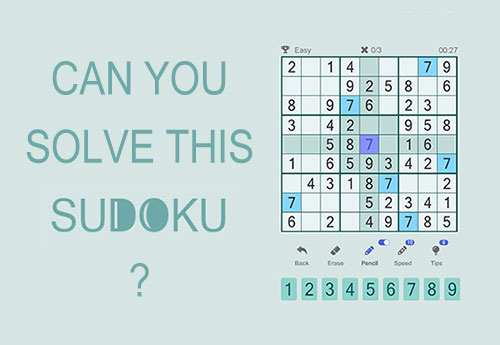 What Is Sudoku?
The word "Sudoku" is from Japanese. It is a 9*9-grid math puzzle.
As a classic puzzle game, sudoku is suitable for almost all ages. You need to take strategies to fill the sections without repeated numbers. So, it is helpful to improve players' logic and math problem-solving skills.
How to Play
In a sudoku game, there are 9*9 grids comprised of nine 3*3 cells. A player needs to solve the puzzle by filling numbers from 1 to 9 in each cell. Make sure each digit only appears once in each column, each row, and each 3*3-cell section.
Tips:
You can use the "Pencil" to take notes.
The "Speed Pencil" is helpful to auto-fill all cells with the same number.
Use the "Eraser" to clear a cell.
Click "Tips" to get hints to solve the Sudoku puzzle.
Sudoku from JayHole Game
JayHole Game is a gaming company that developed the Sudoku puzzle game. With simple designed and friendly controls, this number puzzle offers unlimited levels and challenges.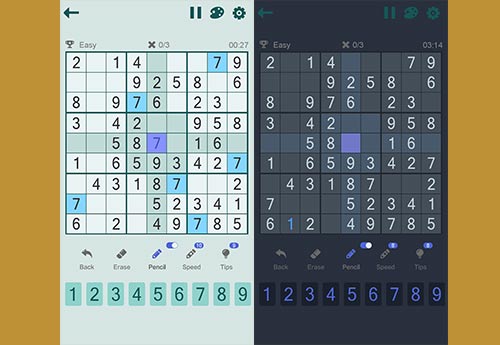 Features
Free Sudoku puzzle to train your brain
Modes from Easy, Medium, Hard to Expert to become Sudoku solver
Auto-fill grids with the same digit
Useful hints to help to solve a difficult puzzle
Support offline gaming
Unlimited undo and erase
Daily challenge to win gifts
Auto-check mistakes in Sudoku puzzles
Dark mode for gaming at night
Customized theme, including background color, sound effect, and more
Download Sudoku
Sudoku number puzzle for Android is available on Google Play now. Click here to download the sudoku puzzle game and become an expert solver!
Or click the picture below to play the game: