Gully Boy (2019) is the latest released Bollywood movie in Hindi language telling about a young rapper and his enthusiasm towards rap.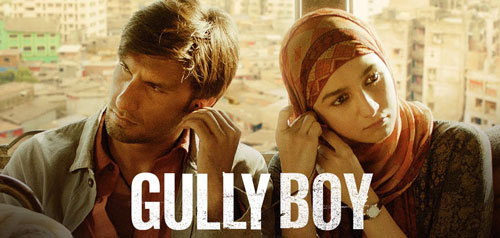 The film makes the whole India seethe with excitement for it gives utterance to the thought of the young Indian people. At this point, Gully Boy movie should be one of the Bollywood movies worth watching this year.
Now, let's have a look at how Gully Boy movie causes a buzz and makes our blood boil.
The following are all about the film Gully Boy, including the movie intro, trailer, soundtrack and other resources.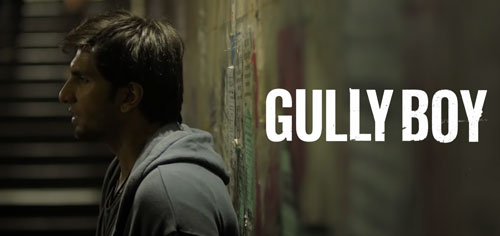 Basic Info of Gully Boy (2019)
Here is some basic information about Gully Boy full movie.
Original Name: Gully Boy (AKA Парень из гетто)
Genre: Drama, Music, Adventure, Comedy, Family
Language: Hindi
Release Date: 9 February 2019 (Premiere in Berlin International Film Festival) and 14 February 2019 in India, USA, Indonesia, etc.
Length: 153 min
IMDb Score: 8.6/10
Box office: est. ₹156.99 crore
Director: Zoya Akhtar
Gully Boy Casts
Directed by Zoya Akhtar, Gully Boy (2019) stars Ranveer Singh, Alia Bhatt, Amruta Subhash, Siddhant Chaturvedi, Vijay Raaz, Sheeba Chaddha, Vijay Varma, Kalki Koechlin, etc.
And here is a list of the main stars and their roles:
Ranveer Singh - Murad Ahmed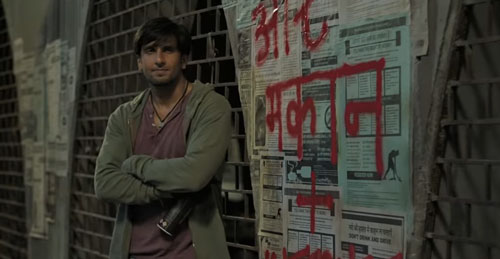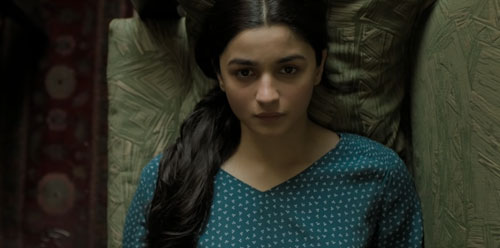 Siddhant Chaturvedi - Shrikant Bisht (MC Sher)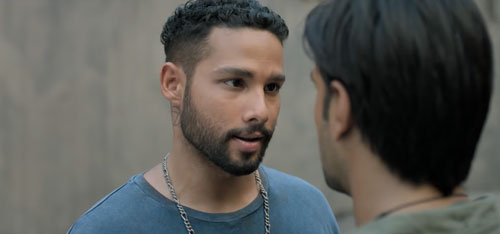 Kalki Koechlin - Shweta (Sky)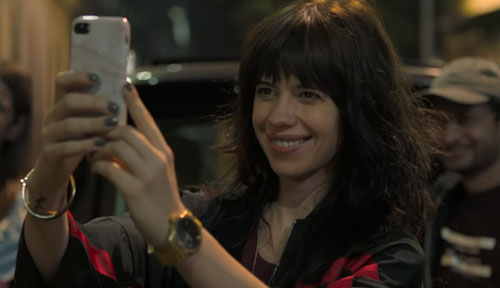 Vijay Raaz - Aftab Shakir Ahmed (Murad's father)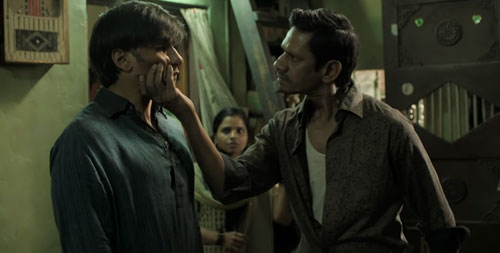 Amruta Subhash - Razia Ahmed (Murad's mother)
Vijay Varma - Moeen Arif
Ikhlaque Khan - Nasir (Safeena's father)
Sheeba Chaddha - Hamida (Safeena's mother)
Vijay Maurya - Ateeq (Murad's uncle)
Rahul Piske - Chintoo
Jyoti Subhash - Dadi
Nakul Roshan Sahdev - Salman
Shruti Chauhan - Maya
Srishti Shrivastava - Albina Dadarkar
Malika Singh - Suhani
Tina Bhatia - Parveen
Rahil Gilani - Rishi
Abdul Quadir Amin - Shah Rule
Svar Kamble - Suhail
Chaitnya Sharma - MC Checkmate
Jasleen Royal - Juhi
Michaela Tanwar - Gemma
Mohan Kapoor - Mr. Narain
Kubra Sait - Scarlett
Plot
Murad Ahmed (Ranveer Singh) is a young college student in Dharavi slum. He has to face the awful surroundings.
His sour father, Aftab Shakir Ahmed (Vijay Raaz), brings home a second wife and crushes the family; his buddy, Moeen (Vijay Varma), employs street children to peddle illegal drugs; and his uncle, Ateeq (Vijay Maurya), provides a menial job after his graduation.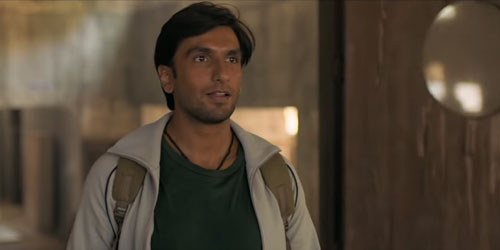 All of these makes Murad's life hopeless. But meanwhile, Murad has a secret girlfriend, Safeena (Alia Bhatt), who is sharp-witted but also bad-tempered when potential rivals involve their affections.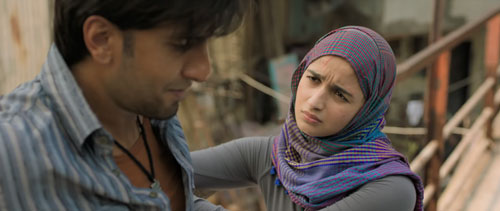 Once after class, Murad notices a jam session, and he is impressed by MC Sher's (Siddhant Chaturvedi) rap. Since then, Murad immerses himself in rap out of control and makes all effort to join Sher's team.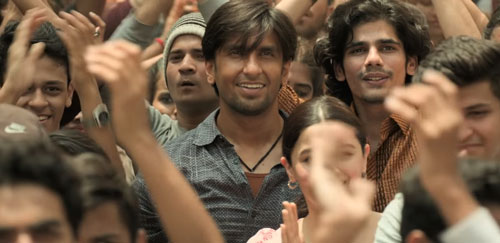 The two rappers form a band named "Gully Boy" after Murad's first rap recording.
After that, Murad becomes increasingly famous and popular. But what he has done meets with opposition from his father.
Meanwhile, Safeena parts from Murad on the bad terms caused by Sky (Kalki Koechlin), a music producer who gets too familiar with Murad. But Murad still drives himself to be a better rapper without distractions.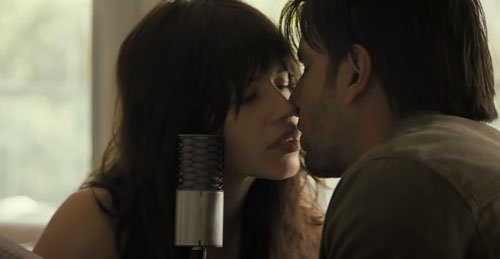 Soon, Gully Boy get a rap video success on YouTube and win a chance to perform at a Mumbai Nas concert.
And at the same time, Safeena is in urged matchmaking by her parents.
Can Murad and Safeena be back together finally?
Will Gully Boy and their rap song get the nod at Nas?
Review of Gully Boy Movie
Gully Boy movie becomes a buzz during its screen hitting in India as well as other countries on 14 February 2019, even if this film has premiered in Berlin 5 days in advance.
As a movie about how a rapper becomes increasingly popular from an obscure slum boy, Gully Boy, in the nature of things, comes with spectacular rap masterpiece.
Also, it is an impressive Bollywood movie with great performances of the brightest actors/actress.
Ranveer Singh and His Role Personality
The leading role, Ranveer Singh, starring Murad Ahmed in Gully Boy, is famous again after his starring in Bajirao Mastani (2015), Padmaavat (2018) and Simmba (2018).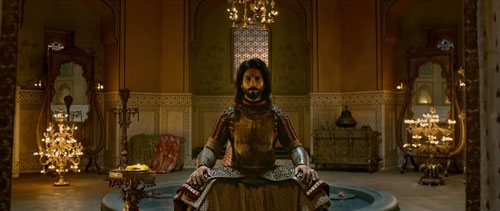 It's hard to imagine that Singh portrays the character without heavily borrowing from his legendary figures acting in the past nine years. On the contrary, as a skilled and mature actor, Singh is all in top form playing the character and impresses the audiences with his energy and youth.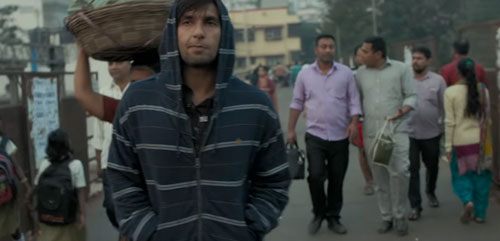 In spite of this, he still receives critics from part of the audiences, who think Singh is overacting and sometimes the role gets overpowered by another leading man in many scenes.
The Protagonist, Alia Bhatt
Alia Bhatt plays the female protagonist, Safeena Firdausi, in Gully Boy, and her recent films are Udta Punjab (2016), Badrinath Ki Dulhania (2017) and Raazi (2018).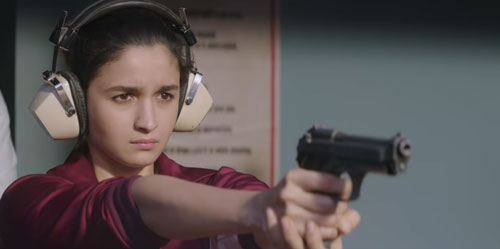 In Gully Boy movie, Bhatt has delivered great performances in playing the impish and dutiful hijab-wearing girl, who twice physically attacks her rivals in love. Also, Bhatt acted well in showing the chemistry between Murad and Safeena, fabulous even if there's not that much for her to cast in the movie.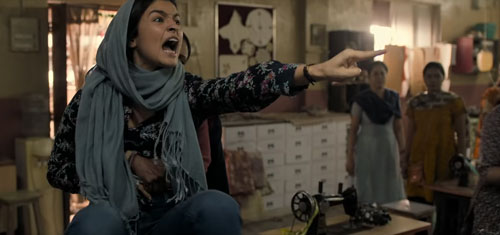 Born into a filmmaker family, Alia Bhatt has starred in over 10 movies in the past ten years, but most of the roles she has portrayed look similar. Gully Boy, to some extent, is a good platform for Bhatt to express herself with her own personality.
Resources of Gully Boy Full Movie
Too long to come for resources of Gully Boy full movie. So, the following is what all of you are care about.
Gully Boy Songs
There are nearly 20 soundtrack titles in Gully Boy full movie. In fact, the film is based on the raising story of two acknowledged MCs in Mumbai: Divine and Naezy.
The two rappers, teaming up with numerous Indian musicians, MCs, and producers, including Sez on the beat, Dub Sharma, Ankur Tewari, etc. composed and performed the soundtrack of Gully Boy movie.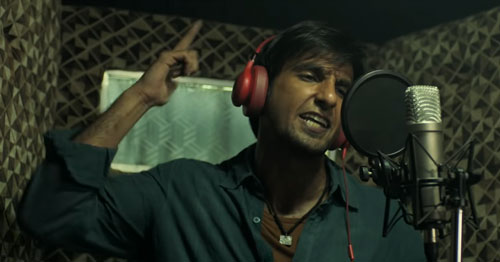 Also, Ranveer Singh sang seven songs in the Gully Boy (2019) album.
Among the songs, Azadi, composed by Divine & Dub Sharma, is the one that sparks a lot of argument due to its lyrics (showed at the end of this post).
Here is a list of the soundtrack items. And you can skip to the next section for Gully Boy songs download guide.
| | | |
| --- | --- | --- |
| Title | Singer(s) | Length |
| "Asli Hip Hop" | Ranveer Singh | 1:40 |
| "Mere Gully Mein" | Ranveer Singh, Divine, Naezy | 3:05 |
| "Doori Poem" | Ranveer Singh | 1:05 |
| "Doori" | Ranveer Singh | 2:15 |
| "Train Song" | Raghu Dixit, Karsh Kale | 3:58 |
| "Jingostan Beatbox" | Dub Sharma | 2:21 |
| "Sher Aaya Sher" | Divine | 2:14 |
| "Jahaan Tu Chala" | Jasleen Royal | 2:20 |
| "Azadi" | Divine, Dub Sharma | 2:35 |
| "Kab Se Kab Tak" | Ranveer Singh, Vibha Saraf | 2:33 |
| "Kaam Bhaari" | Kaam Bhaari | 2:18 |
| "Ek Hee Raasta" | Ranveer Singh | 1:11 |
| "Apna Time Aayega" | Ranveer Singh, Divine | 2:20 |
| "Jeene Mein Aaye Maza" | Ankur Tewari | 3:19 |
| "Har Gham Mein Khushi Hai" | Ace | 2:48 |
| "Jingostan" | Dub Sharma | 2:34 |
| "Goriye" | Kaka Bhaniawala, Arjun, Blitz, Desi Ma | 3:48 |
| "India 91" | MC Altaf, MC TodFod, 100 RBH, Maharya, Noxious D | 3:14 |
| "NY Se Mumbai" | Nas, Naezy, Divine, Ranveer Singh | 3:50 |

Gully Boy Full Movie Audio from YouTube
You can stream and download all of the Gully Boy full movie soundtracks via
https://youtu.be/Wp31HBq3BG4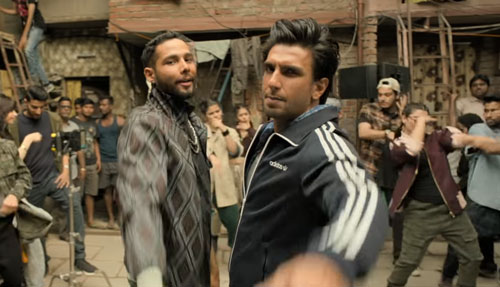 Gully Boy Trailer from YouTube
If you have not ever seen Gully Boy movie, you may want to first experience it via the trailer. And this is the official trailer on YouTube:
https://youtu.be/JfbxcD6biOk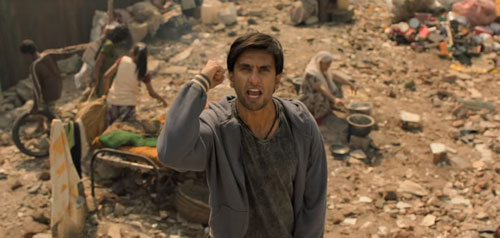 How to Download Songs and Gully Boy Full Movie
You can download Gully Boy full movie songs and trailers with InsTube in only 3 steps:
Step 1. Click the button below to download and install InsTube onto your Android smartphone.

Step 2. In InsTube, find Gully Boy trailer or song resources from YouTube, Hotstar, Dailymotion or other video sites (or just paste the trailer URL to the search bar within InsTube). Then, tap the red download button.
Step 3. Select available audio or video formats you need and tap "Fast Download" to download the Gully Boy movie trailer or song.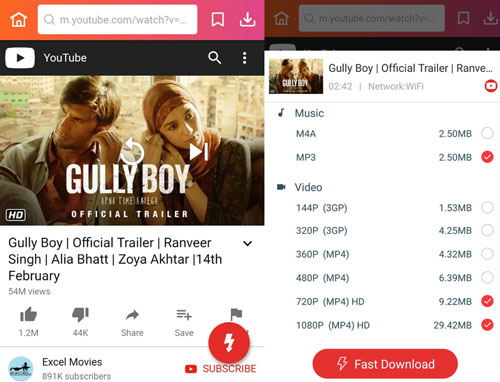 For more Bollywood film resources, please subscribe to this site and keep your eye on the ball.
Download or watch other films online from uTubeMate.com
Bonus: Azadi of Gully Boy Song Lyrics
Title: Azadi
Lyrics, Music & Vocals: Divine, Dub Sharma
Backing Vocals: Ankur Tewari

Share with your friends if you like this article.
Note: If the Gully Boy song and trailer links from YouTube are Not Working, please contact us via support@instube.com and we will update the resources as soon as possible.
More Movies: